– AGAIN! – 1200 ESCAPED LIBYAN JAIL
On what became almost routine in the Arab World more 1200 inmates  have escaped from  al-Kwafiya prison in the restive  Eastern Libyan city of Benghazi, on 07/27/2013 night (see also – AQ-Benghazi Raid ).
The jailbreak comes as protesters stormed the offices of political parties in Libya's main cities. a day after the assassination of a prominent political activist in Bemghazi,  Abdul-Salam Al-Musmari (pic), critical of the country's Muslims Brotherhood triggered protests in the city against Islamic organizations affiliated with the Muslims Brotherhood, although it is not clear whether the two are connected (see also – Mohamed Brahmi days earlier in Tunisia ).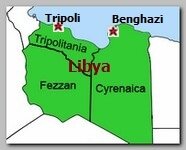 "There was a riot inside Al-Kuifiya prison, as well as an attack from outside. More then 1,000 prisoners escaped," the official said on Saturday, asking not to be named. "Special forces called in as reinforcements were given orders not to fire at the prisoners."
An official said most of the escapees were common law detainees, including nationals of other African states. "But some of them were detainees in cases linked to the former regime of Muammar Gaddafi," he said.
All over the Arab world there is a growing rejection of the Muslims Brotherhood with mass demonstarations against the organization in Tunisia, Libya and Egypt andf a sort of disillusionment about the motto "The isalm is the solution" the slogan of the Muslims Brotherhood (see – EGYPTS III REVOLUTION ).
* Related topics ;