– ASRI RIFAT ANOUAR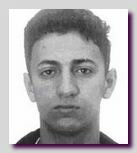 Asri  Rifat Anouar was born in Morocco probably in his early 20s'. He was unknown to the Spanish police prior to the Madrid Trains Bombing attack on 03/11/2004.
Asri  Rifat Anouar s' fingerprints were found in Jamal Ahmidan s' rented farmhouse east of Madrid in Morata de Tajuna, where police believe the bombs used on March 11 were made (see testimony of Kamal Ahbar).
He is one of the terrorists that on the morning of 03/11/2004 placed a bomb in one of the trains in the Madrid Trains Bombing.
In the evening of 04/03/2004, when the Spanish police closed on his hiding place in the Madrid s' suburb of Leganes, Asri  Rifat Anouar, with other four terrorists, blew himself up. At the beginning the Spanish police by mistake, identified the body of Asri  Rifat Anouar as of another suspect, Mohammed Oulad Akcha .
Summary ;
It is unknown how and when Asri  Rifat Anouar connected himself to the Moroccan Islamic Combat Group (CICM) and committed himself to Global Jihad.
 * Related topics –  
2004 -AHMIDAN'S DRUG  GANG  

PROFILE -ALLEKEMA  LAMARI 

PROFILE -FAYCAL, BOURAIB & CHEDLI
Read more ;