– TO ANNAPOLIS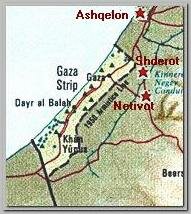 Netivot is a small Israeli town 11 km East to the border of Gaza Strip. On the 10/07/2007 noon, for the first time in the Israeli-Palestinian conflict, Netivot was targeted by a long-range "Katiusha" rocket launched from a heavy populated area in the center of Gaza Strip.
The "Katiusha" rocket type "Grad" with a range of 22 km was from standard Russian production from few decades ago. The event was compatible to the tendency of enlarging the rocket threat from Gaza on Israeli population in few dimensions – range, accuracy and the quality and quantity of the explosives in the war-head of the rockets.  More villages and towns, like Ashqelon, are now under the possible threat and in the range of the rockets fired from Gaza Strip.
Just a month before the Annapolis so called – "peace convention", scheduled to 11/2007,  with the Palestinians and with all the prestige that USA is putting on this convention, the hands of Israel are tied to respond. It is almost certain that any incursion to Gaza will provide a perfect excuse to all the reluctant Arab participants to cancel their participation. The Arabs were, in fact, imposed on to participate in the Annapolis convention to please the USA,.
It also expected that in order to disrupt and to make useless the Annapolis convention the Hamas and all other oppositions to US in the Middle East will, now, increase the effort to attack Israel to demonstrate that any progress in the Middle East cannot be promoted in Washington by excluding Hamas, Syria, Iran or Hizbullah from the process. Their terms to a peace process are that peace is available in any moment but without Israel on the map.
Sooner or later THE INEVITABLE will happen and Israel will confront the threat from Gaza Strip and the whole virtual "Peace Process" will return to square one.
* Relate topics ;
09/2007 -9 ROCKETS ON SHDEROT
09/2007 -AN ORDINARY DAY AROUND GAZA STRIP
09/2007 -11 MILITANTS KILLED IN GAZA 
****************