– SIX CHARGED OVER 9/11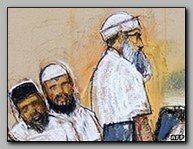 On 02/11/2008 the Pentagon announced the indictment of 6 senior Al Qaeda detainees, now held in Guantanamo, over their alleged involvement in The 9/11 attacks in the USA.

The charges are expected to be heard by a controversial military tribunal system where the burden of proof is easier then in a regular civilian judgment system in US. All six defendants might face death penalty If found guilty.

The six are: Khalid Shaik Mohammed ; Tawfiq bin Attash ; Ramzi Binalshibh ; Ali Abdul Aziz Ali ; Mustafa al-Hawsawi and Mohamed Al Kahtani.

All the defendants went through rough interrogation witch included some sort of torture, as the Pentagon admitted recently.

The trial of four of the defendants for plotting and assembling The 9/11:  Khalid Shaik Mohammed ; Tawfiq bin Attash ; Ali Abdul Aziz Ali and Mustafa al-Hawsawi  began on Thursday 06/05/2008 in the Special Military Tribunal in Guantanamo. 
* Related topic –  
12/2007 – 10 GITMO DETAINEES RELEASED (THE BATCH 10) 

11/2008 -SALIM AHMED HAMDAN CONVICTED 

PEOFILE – AHMED MOHAMMED AL-DARBI 

PROFILE – BRAHIM AHMED MAHMOUD AL-QOSI

 
**************************
 Read more ;