– PAKISTANI AMBASSADOR IN AFGHANISTAN MISSING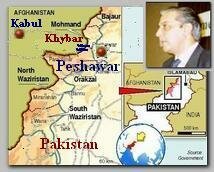 * Tariq Azizuddin, Pakistan's Ambassador to Afghanistan, went missing, probably kidnapped, on Pakistan soil, on 02/11/2008, before he was due to cross into Afghanistan from Pakistan.
Tariq Azizuddin disappeared in the Pakistani side, on the Eastern entrance the Khybar pass, a region where the government control is in doubt and suffers from intensive Islamic Militants activity.  A local source in the Pakistani administration said that Tariq Azizuddin went through the Khyber region without taking a security escort that was waiting for him at the start of the tribal territory.
The route through the Khybar pass is believed to be the shortest and quickest way between Peshawar, in Pakistan in the North West Frontier Province and Kabul. Tariq Azizuddin is said to have previously traveled to Kabul by road, often without the tribal security escort.
On 04/19/2008, Tariq Azizuddin appeared in a two minutes video footage broadcasted in AL-Arabia TV network, based in Dubai. In the video Tariq Azizuddin said he is being held by Taliban militants and urged the Pakistani government to meet Taliban'S demands. He said he, along with his driver and his bodyguard, had been kidnapped by "mujahidin from the Taliban".
A Taliban spokesman said in February 2008 that the group would exchange Tariq Azizuddin for a Taliban commander captured by Pakistani security forces.
On 05/17/2008 Tariq Azizuddin was released, probably due to the newly elected Pakistani regime policy, from 03/2008, of negotiating with pro-Taliban militants. It is not clear whether his bodyguard and driver were also released.
 * Related topics –
–
01/2008 -NORWAY'S F.M TARGETED IN KABUL  
01/2008 -U.S AMBASSADOR TARGETED IN BEIRUT
**************
Read more ;