– KANDAHAR JAIL RAID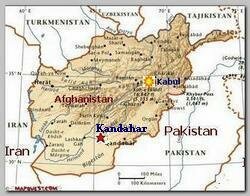 On 06/14/2008 at about 04:00 Taliban raided the central jail of Kandahar, the second important city in Afghanistan and blew up the entrance gate to the prison compound. The blast had been enough to blow out windows up to 3km (1.7 miles) from the prison.
Kandahar, in South East Afghanistan, is in the heartland of the Pashtu tribes in the country and the epicenter of Taliban activity. Under the cover of RPG rockets a car bomb, probably driven by a suicide bomber, speeded to the entrance and exploded blowing away the main gate to the prison. Eight Afghani guards were killed in the audacious attack and about 1000 prisoners escaped the jail, 400 of them Taliban members. 
A Taliban spokesman, Qari Yousef Ahmadi, told The Associated Press that 30 fighters on motorbikes and two suicide bombers had attacked the prison, freeing about 400 Taliban members.
Prison chief Abdul Qabir said some of the prisoners had chosen to stay behind during the breakout. Officials with NATO-ISAF said they were aware of the attack but did not have any details.
The successful Taliban attack is a major setback for the Afghan government in the war on terror.
-* On 07/11/2005, 6 of the most dangerous Al Qaeda operatives managed to escape Bagram Air Base underground jail, just North of Kabul, which was supervised by the CIA.
* related topics –  
–
2006-7 -MAJOR EVENTS IN AFGHANISTAN  
2003-4 -MAJOR EVENTS IN AFGHANISTAN
************************************
Read more ;