– SANAA JAIL ESCAPE
On 02/03/2006 22 of the top Al Qaeda operatives in Yemen jail, who were detained in a compound run by the Yemeni Political Security Organization prison, managed to escape. The militants dug a 130 meters tunnel through which they fled jail.
Eighteen fugitives had been tried for terrorist cases, mainly the attack on the American Destroyer USS Cole and the Limburg Attack case. Some other fugitives were al-Tawhid Battalions, whose members had been condemned of forming an armed gang and planning for terrorist act in Yemen, and another terrorist cell headed by Abdul Raouf Nassib, who were condemned of plots for carrying out acts of devastation and forging official documents.
On 07/14/2006 13 Yemeni intelligence officers were sentenced to 3 years in jail for neglecting their duty and by that, enabled the convicted terrorists to escape. There is little doubt that the fugitives had assistance within the Yemen security apparatus.
The escape boosted and fueled Al Qaeda activity in the next two years and was a major blow to the attempt of Yemen authorities to contain Al Qaeda threat in the country.
The fugitives were:
* Fawaz al-Rabeei, sentenced to death for his role in the Limburg attack. Five other accomplices in the Limburg attack – Mohammed al-Omdah, Arif Saleh Mujali, the younger brother of Hizam Ali Mujali, Omar Saeed Jarallah, Qassim al-Raimi, and Mohammed al-Dailami (see also – Limburg-Trial ).

 

Fawaz al-Rabeei was killed

, along with

Mohammed al-Dailami,

by the Yemen police in a shootout in Sanaa on 10/01/2006.  
–
–

*Four persons were convicted on charge of their membership of Al Qaeda organization and formation of an armed gang: Ibrahim al-Maqri, Shafiq Ahmed Omar, Abdullah al-Wadie and Mansour al-Bayhani, the brother of Zacarias al-Bayhani.  
.
.
.
.
.
.

 * Two others: Abdulrahman Ahmed Basurra, and Khalid Mohammed al-Batati, were al-Tawhid Battalions members.
.
.
.
* Jamal al-Badawi , the leader of Al Qaeda cell in Sanaa,

He surrendered to the Yemeni authorities on 10/17/2007. 
*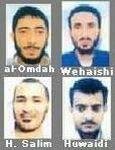 Jaber Elbaneh – the planner of the USS Cole attack. He along with other five escapees: Mohammed al-Omdah, Kassem al-Raimi, Nasser al-Wehaishi, Ibrahim al-Huwaidi, who was sentenced on  08/25/2004 for 10 years in jail as an accomplice to Fawaz al-Rabeei, and the Kuwaiti citizen Hamza Salim al-Kuwaiti tried to carry out a car bomb suicide attack on tourist in Marib region. The plot was foiled by the Yemen authority on 09/15/2006 (See – Marib Foiled Attack). On 05/20/2007 Jaber Elbaneh and Mohammed al-Omdah surrendered themselves in to Yemen authorities on the condition that his prison sentence would not be extended and is today (06/2008) in Yemeni jail (see also – 4 Marib Escapees). 
The other four – Qassim al-Raimi, Nasser al-Wehaishi, Ibrahim al-Huwaidi and Hamza Salim al-Kuwaiti were behind the Marib Suicide Attack on 09/15/2006. Hamza Salim al-Kuwaiti was killed by Yemen forces on 08/06/2007. Nasser al-Wehaishi Ibrahim al-Huwaidi and Kassem al-Raimi are still at large wanted by Yemen authority.
–

* Abdullah Ahmed al-Raimi, also known as Abdallah al-Kini (from Kenya where a large group of Yemenis is living) or Owaiss, was the contact man with the Swiss-Cell and helped to finance the Riyadh Suicide Attacks, on 05/12/2003. He was arrested in Qatar, UAE, on 07/20/2003, and then extradited, in 05/2004, to Yemen, where he appears to be cooperating with authorities. (One indicator: Owaiss identified a picture of one of the Swiss suspects as somebody he had known who had undergone training in explosives at Al Qaeda's al-Farouq training camp in Afghanistan ).
Abdullah Ahmed al-Raimi was described by the Swiss prosecution (Nicati's Report) in 08/2004 as an "operational Al Qaeda agent" involved in the October 2000 attack on the destroyer USS Cole off Yemen, which killed 17 American sailors, and a close associate of Saif al-Adel.
Abdullah Ahmed al-Raimi was officially charged in Yemen, on 08/24/2004, and sentenced to four years in jail. He was caught, eventually, in Sanaa on 04/04/2008.

* Six escapees: Hizam Saleh Mujali, Fawzi Muhamed, Zacarias al-Yafeei, Zacarias

al-Bayhani, the brother of Mansour al-Bayhani,

Yasser Al-Homikani

and one whose name was not disclosed, were scheduled to stand trial on charges of their affiliation to Al Qaeda organization. Hizam Saleh Mujali, the brother and junior associate of Arif Saleh Mujali, surrendered to the authorities on 04/02/2006.
* The brothers Mansour and Zacarias al-Bayhani have two other brothers Ghalib and Tawfiq al-Bayhani, who were in 2006 in USA custody in Guantanamo.
 * Related topics –
–
2006 – ZARQAWI'S YEMENI CELL
.
******************************
Read more ; –
YEMENTIMES