– KABUL'S INDIAN EMBASSY BOMBING
–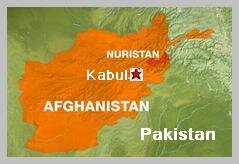 On Monday 07/07/2008 morning, at about 08:00, the peak of the local rush hour, a suicide bomber has rammed a car full of explosives into the gates of the Indian embassy in Afghanistan's capital – Kabul, killing 41 people. Two embassy vehicles were also destroyed in the attack, reports say.  The Indian Embassy is located in the other side of the road in front the heavily guarded Interior Ministry.  
A spokesman for the health ministry said 141 people were injured, including civilians and security forces.
In 09/2006, a suicide bomber near the gates of the Interior Ministry killed 12 people and wounded 42 others. After that blast, additional guards and barriers were posted on the street. 
The Taliban denied any involvement in the attack. India has good relations with Afghanistan, once the backyard of the Pakistani notorious intelligence service – ISI. Within ISI there is discontent from the improving relations between Afghanistan and India and a worry that India might use the improving relations to outflank Pakistan. Afghanistan already threatened to send troops to fight the Taliban in Pakistan.(See – Karzai's threat )
Therefore some commentators do not exclude the possibility that the attack on the Indian Embassy is, somehow, related to the Pakistani ISI. Indeed USA intelligence official who were briefing reporters in New York, on Friday 08/01/2008, claimed and confirmed that elements in Pakistan's ISI intelligence agency helped plan the Indian  Embassy Bombing.
* Related topics –  
–
*************************************
Read more ;