– MUHAMMED EMIN TOKCAN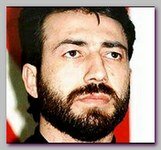 * Muhammed Emin Tokcan was born in northern Turkish town of Duzce, close to the Black Sea coast, probably in the early 60s'. He has close family connections with Chechnya, being one of estimated five million Turks who trace origins to the Caucasus.
In 1994 Muhammed  Tokcan fought against the Russians in Chechnya in the First Chechen War. During the war he became associated with Chechen rebel leader Shamil Basayev.
Muhammed  Tokcan first came to international spot lights, on 01/16/1996, when, with five colleagues, he hijacked a Turkish ferry with 200 people on board in the port of Trabzon. Muhammed  Tokcan demanded withdrawal of Russian troops from Chechnya (see also – Salman Raduyev). The hijack ended peacefully after four days when Muhammed  Tokcan gave himself up.  He was sentenced to eight years in prison. however in 1997, after serving less than one year, Muhammed  Tokcan managed to escape from jail.   
Muhammed  Tokcan was re-arrested 1999 at Ataturk airport in Istanbul while trying to board a flight to Kosovo. He was released from prison on 12/23/2000 as part of a general amnesty of prisoners.
On 04/22/2001 Muhammed  Tokcan led a team of gunmen who took up 120 hostages at Istanbul Swisshotel Crisis. Muhammed  Tokcan demanded USA to use its influence to denounce Russian war in Chechnya. He surrendered 12 hours later, without bloodshed.
In his trial Muhammed  Tokcan denied planning the hostage-taking, saying it had started spontaneously when they believed they were under attack by Russian agents.
On 12/30/2002 Muhammed  Tokcan was sentenced for 12 years imprisonment. The twelve other members of the group were freed by the court, despite being sentenced to at least three years' jail.
One of Muhammed  Tokcan's team mates Erdinc Tekir, who was sentenced to 9 years in jail was released after 3.5 years. Erdinc Tekir was wounded during the Israeli IDF raid on Mavi Marmara boat heading to Gaza, on 06/01/2010 dawn, organized by the IHH – .
* Related topics –  
–
03/2008 -45 AL QAEDA SUSPECTS ARRESTED IN TURKEY 
03/2001 -MEDINA FLIGHT HIJACKING
PROFILE -ASLANBEK  ARSAYEV
********************
Read more ;