– ISLAMIC MILITANTS ARRESTED IN MOROCCO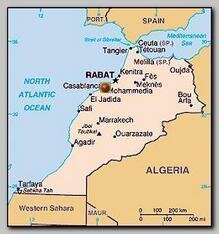 Moroccan authorities said, on Friday 08/29/2008, that they have busted an Al Qaeda linked terror network and arrested fifteen suspected cell members who were planning terror attacks in Morocco.
Officials said that the suspects were arrested from various towns across the country and added that it was the fourth such cell busted in 2008. They described the arrested suspects as 'dangerous,' but refused to identify them.
Moroccan police said that the arrested suspects belonged to am Al Qaeda linked group called 'Fath Al Andalous' (Andalous is the common name for the historic Muslim Spain), and added that chemicals and electronics "used in the making of explosives" were recovered from them.
Moroccan authorities have arrested thousands of Islamists suspected of planning terror attacks in the kingdom after 45 people were killed in the Casablanca Bombings five years ago.
* Related topics –
–
********************
Read more ;