– HAMAAD MUNSHI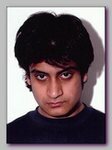 * Hamaad Munshi was born in 1990 in UK to a family from Pakistani descent. He is the grandson of a British shariaa (Islamic law) judge. Since 03/2005, at the age of 15, Hamaad  Munshi established connections with Islamic militants through the web. He built a dossier library of potential targets in UK, including on all highest members of the Royal Family. He also operated his own extremist Islamic website from his home in Saville Town, Dewsbury. British police believes Hamaad  Munshi was recruited to Global Jihad by Aabid Hussain Khan, the ringleader of the Yorkshire Cell.
Hamaad  Munshi also collected from the web materials and details such as How To Make Napalm, Improvised Primary Explosives, Manual On Explosives And Demolitions, Mujahideen Poisons Handbook, AK47 Homebuilt Receiver Plans, and Expedient Homemade Firearms – The 9mm Submachine Gun. Hamaad  Munshi shared Part of the information with Sultan Muhammed.
On 06/19/2006 Hamaad  Munshi was arrested as a suspect member in the Yorkshire Cell. The trial of Hamaad  Munshi along with three other Yorkshire Cell members began in London on 01/19/2007. On 08/19/2008 was convicted in court and became the youngest person convicted in Britain on terrorist charges. He was sentenced on 09/20/2008, to two years in a young offenders' institution.
* Related topic – 
–
10/2008 -ENCOUNTERING  AL QAEDA ON THE WEB 
10/2007 -MOHAMMED  ATIF SIDDIQUE JAILED  
****************************
Read more ;