– BRITISH SUICIDE BOMBER TALHA ASMAL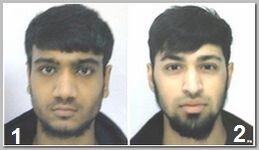 * Talha Asmal (2), 17, from Dewsbury, West Yorkshire, UK, was described by his former MP – a family friend – to have been a 'sweet-natured, friendly kid'. He travelled to Syria in 03/2015 with Hamaad Munshi 's brother Hassan Munshi (1), also 17. He commited a suicide mission, near Baiji oil refinery in Iraq, according to I.S.I.S media reports on 06/15/2015. Talha Asmal exploded the truck he was driving as part of an ISIS attack near the oil refinery killing 10 troops.
Social media reports linked to Islamic State said Talha Asmal, going by the name of Abu Yusuf al-Britani, was among the attackers. Confirmation would make him Britain's youngest known suicide bomber.
Talha Asmal was in a squad of 4 driver suicide bombers who targeted Shiaa militia fighter, simultaneously in Baiji near Tikrit. The four were from Kuwait, the Palestinian Authority, Talha Asmal from UK and a German citizen known as Abu Ibrahim Al Almani, identified by the German Authorities as Yassin Chouka .
Another West Yorkshire teenager, Hasib Mir Hussain, was 18 when he blew himself up on a London bus in the 2005 London 7/7 attacks.
Hassan Munshi is believed to be still in Syria.
Related topics ;
03/2015 – MONER MOHAMMED ABU SALHA – US SUICIDE BOMBER
03/2015 – ABU DAWUD AL-AMRIKI THE SUICIDE BOMBER
03/2015 – JAKE BILARDI BLEW HIMSELF IN RAMADI. IRAQ
03/2015 – 9 BRITISH STUDENTS 'HEADING' TO ISIS
***********************
Read more ;
BBC NEWS
DAILYMAIL
KHALEEJTIMES
BERLINNER-ZEITUNG