Houssain Al Malla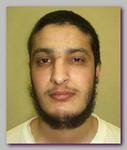 Houssain Al-alla was born 0n 11/15/1985 in Beirut, Lebanon to a Sunni Muslim family. He lived in Saarland on the German border with France. While working at a cleaning company for industrial facilities he met Daniel Martin Schneider and other young Muslims from the town, who all went to the local Yunus Emre Mosque. Houssain Al-alla is believed to be in contact with the -IJU already since 2004  (see -Sauerland Cell).
On 06/10/2007, Houssain Al-Malla was arrested in South Pakistan, together with the German citizen from Turkish descent Tolga Durbin, trying to cross the Pakistani-Iranian border using forged Afghan refugee cards. Houssain Al-Malla allegedly tried to establish contact with the "Islamic Jihad Union" –IJU that have a training camp in FATA region, in South Waziristan in Baitullah Mehsud's domain.
On 08/15/2007 Houssain Al-Malla was extradited back to Germany and promptly released, probably by mistake. He immediately left Germany and joined Eric Breininger in Egypt.
Houssain Al-Malla traveled with his friend Eric Breininger, via Egypt and Zaidan, Iran, where the Makki Mosque and Gofir Salimov emerged as a center for -IJU logistics and the last stop for many European recruits before entering Pakistan,  in order to join the "Islamic Jihad Union" (-IJU) camp in North West Pakistan.
On Wednesday 09/25/2008 the German prosecutors announced that Eric Breininger, and Houssain Al-Malla, who were implicated in the Ramstein Plot, could be headed to Germany after leaving a terrorist training camp in the border region between Afghanistan and Pakistan.  The German Security Service BKA issued a terror alert that he is probably on his way back to Germany and published his photos in public stations.
Today (10/2008) the deeds and whereabouts of
Houssain Al-Malla are unknown to the German authorities.
* Related topics –





GLOBAL ISLAMIC MEDIA FRONT – GIMF






PROFILE -ALEEM  NASIR






PROFILE -FRITZ MARTIN  GELOWICZ 
********** ************
Read more
MYPETJAWA