– IRAQ'S VIOLENCE INCREASES FOR THE SECOND MONTH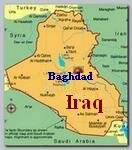 According to Iraq's official data the number of casulties in Iraq in 02/2008 jumped to 633 from 460 in January – a relative rise of more then 35% to previous month. In 03/2008 the death toll raised up to 1,082 Iraqis, including 925 non-combatant civilians. 
Giving the fact that March is two days longer then February the numbers reflect a 50% raise of violence in Iraq.
The increasing numbers are partially due to the Basra clashes which caused an overall of about 350 casulties.
Indeed General David Petraeus successful security plan from 02/2007, which succeeded in reducing the violence in Iraq at about 70% and removing Iraq issue from the TV screens in USA in a year of election, shows clear signs of draining. In the last two month there is a new scaling of violence, still far from the level of summer 2007, and the Iraqi anti American insurgency, including Shiite factions, adopted themselves to the new situation. (See – Green Zone 03.24.08 )
* Related topics –
–
02/2008 -9 CIVILIANS KILLED BY US ARMY  
02/2008 -FIERCE FIGHT IN BASRA  
Read more ;