– ZAIKI-UR-REHMAN LAKHVI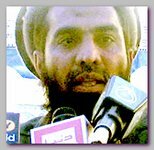 Zaki-Ur-Rehman Lakhvi, also known as "Chacha", was born in India to a Muslim family.  
Zaki-Ur-Rehman is known to Indian intelligence and police already from 1994 when he recruited the Islamic Mumbai native militant – Abdul Karim Tunda to operate under his command in India. Abdul Karim Tunda was suspected that, with full cooperation with Daoud Ibrahim, he led the 03/12/1993 blasts in Mumbai, which caused over 350 fatalities.   
In 07/1998 the Indian Security service managed to foil a series of Bomb attacks in the capital New Delhi arranged by Zaki-Ur-Rehman.  He fled India to the Pakistani side of Kashmir – Azad Kashmir and is operating since then against India from Pakistan. Soon Zaki-Ur-Rehman became the head of all Lashkar-e-Toiba operations in India.  Zaki-Ur-Rehman was the chief Lashkar-e-toiba supervisor of Azam Cheema, the ringleader of the Mumbai Trains Bombing from 07/11/2006.
Zaki-Ur-Rehman is suspected by the Indian Intelligence, based on the interrogation of Ajmal Amir Kasab, a 21 year old native of Faridkot in the Punjab province of Pakistan and the only surviving perpetrator of the Mumbai Carnage, who was captured near the Chhatrapati Shivaji train station, of recruiting the Mumbai Carnage perpetrators by offering poor families in Faridkot district of Punjab, Pakistan, a large sum of money in return for the participation of their sons in the attack on Mumbai.
Following the Mumbai Carnage, on 11/29/2008, India has asked Pakistan, on Tuesday 12/02/2008, to hand over 20 fugitives from Indian law India believes, found refuge in Pakistan, among them Zaki-Ur-Rehman, who India claimed was The trainer of Faheem Ahmed Ansari and the chief trainer and recruiter of the assailants in the attack (see – INDIAN-Request ) .
Zaki-Ur-Rehman Was arrested by the Pakistani army in a raid on Lashkar-e-Toiba camps near Muzaffarabad on 12/07/2008 (see – Mangla Dam ).  Zaki-Ur-Rehman Lakhvi, along with Zarar Shah, Javed IqbaL, Hammad Amin Sadiq, is believed to be the main LeT operator belonging to southern Punjab, Mohammad Ashfaq and Abu Hamza, whose real name is Zabiuddin Ansari, is supposed to face criminal charges in Pakistan court.
* Zaki-Ur-Rehman Lakhvi was indicted in Rawalpindi, on 11/25/2009 (see – PK Mumbai Indictment).
* A Pakistani court, on Thursday 04/09/2015, ordered the release of Zaki-Ur-Rehman Lakhvi for the second time in less than a month, a defense lawyer said.
* Related topics – 
PAKISTAN'S ISLAMIC MILITANT GROUPS 

11/2008 – MUMBAI CARNAGE INVESTIGATION REPORT 

12/2009 – RETIRED PAKISTANI MAJOR, SAJID MIR, TIED TO TERROR 

12/2011 -

9 CHARGED IN INDIA OVER 11/2008 MUMBAI CARNAGE 

  
************************
Read more ;
INDIA.TM SHOW