– ZARAR SHAH – WORLD WIDE AMBITION
–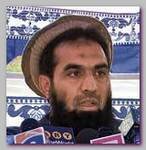 * Zarar Shah, whose real name is Abdul Wajid, was arrested by the Pakistani authorities, on 12/02/2008, following the INDIAN-Request, as a senior Lashkar-e-Toiba (LeT) operative and an accomplice in the Mumbai Carnage, which was committed few days earlier.
Zarar  Shah, a close associate of Zaki-ur-Rehman Lakhvi, the chief of Lashkar-e-Toiba military operations, was also in charge on the encoded communication inside Lashkar-e-Toiba and on the computer communication since 2002, when Lashkar-e-Toiba was outlawed in Pakistan. Zarar  Shah who was singled out by Indian intelligence after USA intercepted a phone call between Zarar  Shah and one of the Mumbai attackers and the interrogation of Ajmal Amir Kasab , the sole perpetrator survivor of the Mumbai Carnage.
Zarar  Shah has confessed, in his investigation in Pakistan, the group's involvement in terror attacks in Mumbai and has confirmed the basic details of Ajmal Amir Kasab's interrogation in India.
The computer of Zarar  Shah, with its contents, was examined by USA Intelligence, probably experts from the National Security Agency – NSA. The computer revealed a world wide ambition of Lashkar-e-Toiba to commit terror attacks all over the world – an ambition to become a new Al Qaeda.
In the computer Federal Bureau of Investigation – FBI, have revealed the LeT's list of about 320 worldwide locations as potential targets for commando-style terror strikes. The British Guardian has said in a report published, on Thursday 02/19/2009, that only 20 of the potential targets were in India.
Analysts say the computer list is more of a statement of intent because LeT would need time to set up terrorist cells in so many places. But connection with the Pakistani Diaspora in Europe and USA, through Javed IqbaL in Barcelona, for example, were already established in order to raise money for terror attacks and basic intelligence on potential targets. 
Sabahuddin, chief of the LeT's Nepal unit (see – Faheem Ahmed Ansari arrest ), who was arrested in India, on 02/16/2008, and a co-accused in the Mumbai Carnage, has told interrogators that the Lashkar-e-Toiba cadres were instructed to be prepared for terror strikes across the world. Sabahuddin's statements are backed, eventually, by the e-mails of LeT leaders Zarar  Shah and Zaki-ur-Rehman Lakhvi, intelligence sources in India revealed.
According to Sabahuddin the Pakistani Inter Services Intelligence – ISI had given the LeT the go-ahead to spread its terror tentacles beyond South Asia, as Al Qaeda has restricted its operations to fighting the United States-led forces in Afghanistan and Iraq. Sabahuddin added that the LeT has already sent its cadres to conduct reconnaissance of these places and would strike when the time is right.
Although there is no doubt that Lashkar-e-Toiba has strong ties with the Pakistani intelligence –  the accusation that ISI gave a 'green light' to a world wide terror campaign, when it comes form the rival Indian intelligence, went too far and probably is not true. On the other hand Pakistan became, indeed, unwillingly, the major terror exporter to the whole world. 
* Zarar  Shah, along with Zaki-ur-Rehman Lakhvi, Javed IqbaL, Hammad Amin Sadiq, is believed to be the main LeT operator belonging to southern Punjab, Mohammad Ashfaq and Abu Hamza, whose real name is Zabiuddin Ansari, is supposed to face criminal charges in Pakistan court.
* Zarar  Shah He was indicted in Rawalpindi, on 11/25/2009 (see – PK Mumbai Indictment ).
* Related topics – 
02/2009 -13 ARRESTED IN SPAIN LINKED TO TERROR
01/2009 -PAKISTANI SECURITY ADVISER SACKED
12/2008 -LASHKAR-E-TOIBA CAMP RAIDED IN PAKISTAN
12/2008 -MUMBAI CARNAGE INVESTIGATION REPORT
************************************
 Read more ; 
THEAUSTRALIAN