– SURANTO ABDUL-GHONI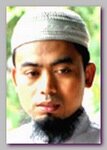 * Suranto Abdul-Ghoni, alias Umar or Wayan, was born in the early 70s' in Central Java, Indonesia. He is from the village of  Dukuh Karangrejo in Karanganyar. In 1989 Suranto Abdul-Ghoni enrolled to the mechanical engineering faculty at the Muhammadiyah University in Solo but attended only 3 semesters.
Suranto Abdul-Ghoni was among 18 INDONESIAN JI members arrested on 04/24/2003 in a police swoop in central Java in the manhunt after the Bali '02 Bombings perpetrators.
According to the Indonesian persecution Suranto Abdul-Ghoni participated in the 08/2002 meeting at Hernianto's house in the Central Java town, Surakarta. The plan to bomb Bali was conceived during the meeting.
Suranto Abdul-Ghoni has admitted to mixing chemicals, with his co-defendant Zaenal Abidin, for the bomb at the home of convicted bomber Ali Amrozi in Java in September 2002, and taking four boxes of the powdered chemicals to Bali by bus. But he claimed that until he arrived in the island he did not know what the chemicals were for.
Both Abdul-Ghoni and Ali Amrozi were also responsible for packing at least 800 kg' of potassium chlorate, 150 kg' of sulfur and 80 kg' of aluminum powder into 26 boxes prior to their delivery to Bali.
On 02/09/2004, Suranto Abdul-Ghoni was convicted in the Denpasar district court of Bali and sentenced to life imprisonment for his role in the Bali 2002 Bombings .
* Related topics –
– 
PROFILE -DR. AZAHARI  HUSIN 
***********************
Read more ;