– GALASHKI RAID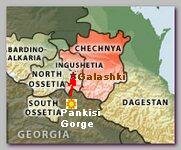 On 09/19/2002 Ruslan Gelayev, with a force of about 150 men, conducted a large raid from his base in Pankisi Gorge, Georgia, on two villages in Ingushetia, Tarskoye and Galashki, about 40 km South of Ingushetia's main city Nazran.
After capturing the villages of Tarskove and Galashki, Ruslan Gelayev's fighters were surrounded by Russian troops, suffered big losses and were dispersed. Among those killed in the battle was Roddy Scott, a British freelance reporter, who travelled with the militants.  7 to 40 Chechen fighters were killed and five were captured, while 17 Russian soldiers were also reported killed by official reports. In 12/2003, Ruslan Gelayev was incorrectly reported dead after a firefight that left nine Russian soldiers dead. In an interview, Ruslan Gelayev said he would "continue to fight until not only our country (Chechnya) but all the nations of the Caucasus are freed from Russia".
In the fighting a young fighter named Muslim Atayev emerged as the leader of approximately 30 Kabardino-Balkarians volunteers under Gelayev's command. 
Under Russian pressure Georgian forces raided, in 12/2002, Ruslan Gelayev's training camp in Pankisi Gorge and the training camp was shut down also the Pankisi Gorge region remained a refuge and hiding place for Chechen militants where they were able to reorganize and to regroup for some time more.  
* Related topics –  
–
***********************
Read more ;