– WAN MIN WAN MAT
–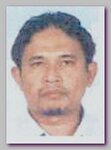 * Wan Min Wan Mat was born on 09/23/1960 in Kelantan, Malaysia, to a family from Chinese descent. He became a local Muslim Cleric, a university lecturer at Malaysia Technology University and an INDONESIAN JI member, who specialized in financing the organization and its activities.    
Already in 1999, Wan Min  Wan Mat was put in a list of terror financier whose assets were frozen under UN Security Council resolution no. 1967.
In 01/2002 Wan Min  Wan Mat attended the Bangkok Meeting of senior INDONESIAN JI leaders in Thailand's capital, with Hambali, Noordin Mohammed Top, Dr. Azahari Husin, Ali Ghufron and Mohammed Mansour Jabarah.  In the meeting they decided to focus on economical targets. The decision resulted, eventually, in the Bali '02 Bombings.  The meeting came to the attention of the Singapore Intelligence and resulted with the arrest, in the Philippines, on 01/17/2002, of Fathur Rohman Ghozi, who was supposed to carry out some of the attacks.
On 07/29/2002 Wan Min  Wan Mat was arrested by the Malaysian authorities for being a member in a local militant group –the Kumpulan Mujahidin – KMM (a group affiliated to the INDONESIAN JI) – under a draconian law which allows the police in Malaysia to detain without warrant anybody deemed a threat to the national security or economic life of Malaysia, for up to 60 days for investigation.
On 07/30/2003, Wan Min  Wan Mat testified through video in the trial of Ali Ghufron, one of the Bali 02 Bombing suspects. Wan Min  Wan Mat said he had given Ali Ghufron, whom he knew as Muklas, cash amounting to approximately US $35,000 for the Bali operation, at Hambali's request. He also asserted that the money had come directly from Al Qaeda and that the money was not to be used only for the bombings in Bali, but also for other attacks in Indonesia.
In 05/2005 Wan Min  Wan Mat was released from the Malaysian jail after the authorities concluded he no longer posed a threat to Malaysia, "after he had shown remorse over his past actions and militant-like views," as a security official put it.
* Related topics –  
–
2000 -LIBRARY  TOWER PLOT  
***************************************
Read more ;