– SINGAPORE CELL
–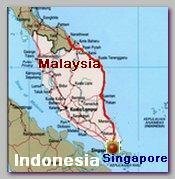 In December 2001, Singapore authorities arrested 13 INDONESIAN JI members, eight of whom had trained in Al Qaeda camps in Afghanistan and formed a "sleeping cell" in Singapore, who planned to bomb the USA and Israeli Embassies, British and Australian diplomatic buildings, and USA and Singapore defense targets.
According to Singapore Police official statement, the cell members avoided contact with well-known Islamic organizations and were not even known to be active members of local Mosques. They communicated with code words, according to a statement by the government of Singapore. The group was ready to act when two foreigners: the Indonesian Fathur Rohman Ghozi and a Kuwaiti, Mohammed Mansour Jabarah, traveling on a false Canadian passport, arrived with orders. "The switch was thrown", was the code according to a Western diplomat. Mohammed Mansour Jabarah was designated personally by Khalid Shaik Mohammed to activate the cell.
A cell member, Muhammad Aslam Yar Ali Khan, was placed, after The 9/11, under surveillance but he abruptly left Singapore for Pakistan on 10/04/2001. He was later seized by Northern Alliance forces in Afghanistan, during operation Absolute Justice, leading investigators to focus on his associates in Singapore. The arrests in Singapore began on 12/09/2001 and, a few days later, a videotape was found in an abandoned house in Kabul, Afghanistan, on which a narrator described where in Singapore bombs could be hidden to attack Americans. Investigators there searched the homes of those detained and found an identical videotape.
 Members of the group had conducted videotaped surveillance of the potential targets and had already acquired explosives in preparation for the attacks. Singapore police discovered tampered passports, forged immigration stamps, bomb making manuals, and Al Qaeda-related material in several suspects' homes. In the home of one of the suspects, police reportedly discovered documents with plans for the bombings.
In addition, a copy of a videotape made by certain members of the group and showing intended targets in Singapore was found in the wreckage of an Al Qaeda leader's house in Afghanistan in December 2001. An organizational chart prepared by the Singaporean investigators says the group was led by Abdus Samad, a pseudonym for Abu Bakar Bashir.
Mohammed Mansour Jabarah was put under Singapore close surveillance, which led, eventually, to the uncovering of the Bangkok Meeting a month later, in 01/2001.
* A Complete list of the INDONESIAN JI Singapore cell members arrested 12/2001.
Haji Ibrahim bin Haji Maidin, 51, condominium manager;
Mohamad Anuar bin Margono, 31, driver;
Mohamed Khalim bin Jaffar, 39, printer;
Jaafar bin Mistooki, 40, despatch driver;
Faiz Bafana bin Abu Bakar, 39, businessman;
Fathi Abu Bakar Bafana, 36, businessman;
Mohamed Ellias s/o Mohamed Khan, 29, manager;
Mohamed Nazir bin Mohmmed Uthman, 27, ship traffic assistant;
Adnan bin Musa, 36, technician;
Halim bin Hussain, 41, supervisor;
Hashim bin Abas, 40, service engineer;
Ali Ridhaa bin Abdullah, 34, technician;
Othman bin Mohamed, 42, supervisor;
* Related topics – 
–
02/2006 – LIBRARY TOWER PLOT 
PROFILE – MAS SELAMAT KASTARI 
PROFILE – ARIF NAHARUDIN & MOHAMED YUNOS
Read more ; 
EMERGENCY