– COMILLA SHOOTOUT
–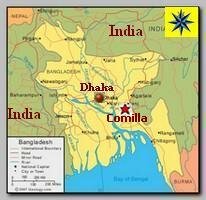 A suspected Islamic militant and three others have been killed in a double bomb blast after some 300 Bangladeshi Rapid Action Battalion (RAB) personnel besieged a two-storey house called Jannatul Shafi or 'recommended for paradise' in Comilla, about 88km (55 miles) east of the capital, Dhaka, Eastern Bangladesh, on 03/13/2006, officials said.
Shakil, alias Mollah Omar, a member of the banned Jamaat-ul-Mujahideen -JMB, died in the Comilla blast along with his wife and two children. The deaths followed the arrests of the group's chief, Maulana Abdur Rahman and his deputy Siddiqul Islam or Bangla Bhati. According to the investigation of Hasan al-Mamun, who killed two judges, on 11/14/2005, it was Shakil, alias Mollah Omar, who supplied the explosives which were used in killing the two judges in Jhalakathi (see – Gazipur Bombings).  The government blames the militant group for a recent spate of bombings.
Abdur Rahman's son, Nabil, was one of two people arrested at the site of the Comilla explosion and wounded, Rapid Action Battalion (RAB) officials said.
Mollah Omar ignored calls for his surrender and exploded several bombs during the three-hour siege, RAB officials said. The authorities say it is still not clear whether Mollah Omar exploded the bombs to commit suicide or in an attempt to escape.
In August 2005, about 500 small bombs were set off in all but one of Bangladesh's 64 districts in the space of an hour (see -BANGLADESH Bombings ).
More than 100 cases have been filed against alleged members of the JMB in connection with the bombing campaign.
* Related topics –  
–
09/2007 -BANGLADESH CARTOON CONFUSION  
PROFILE -ATAUR RAHMAN SUNNY
*********** *************
Read more ;  
WESTERNRESISTANCE