– GAZIPUR SUICIDE ATTACKS
–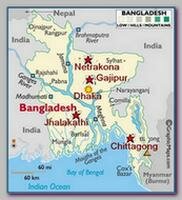 * On 11/14/2005, 2 judges, Jagannath Pandey and Sohel Ahmed, were killed when suspected Islamic militant threw a bomb and tried to blow himself at their car in Jhalakathi, 250 km (155 miles) south of Dhaka, Bangladesh's capital. The attacker and would be suicide bomber Hasan al-Mamun, who killed the two judges, was critically wounded and caught by the police. Before his death, Hasan al-Mamun named Shakil, also known as Mollah Omar, as the bomb maker. The interrogation eventually led to the Comilla Shootout. 
In February 2006, a court sentenced two men accused of Islamic militancy, to 40 years in prison in absentia for assisting the bomb attack that killed the two judges.
* Just two weeks later, on 11/29/2005, the first ever successful terror suicide attack in Bangladesh occurred when two suicide bombers blew themselves up in the town of Gazipur, 30 km north of Dhaka, Bangladesh's capital and in the port city of Chittagong in local court premises. 11 people, including two lawyers and a police constable, were killed in the double suicide attacks.  78 others were injured.
The Chittagong bomber, who blew himself up at the entrance to the Chittagong court building at 8:44 am, was severely wounded and identified as Abul Bashar, a Jamaat-ul-Mujahideen member. The second bomber in Gazipur exploded at 09:45. He died on the spot. 
The police also held one Mahbub Alam Shahin, 25, from Gazipur hospital on suspicion as he tried to flee from the hospital refusing to receive treatment. They had earlier sent Mahbub Alam Shahin to hospital for treatment, suspecting him as a militant.
*Two days later, on 12/01/2005, yet another suicide bomber killed 2 people near a court building in Gazipur. The bomber was later identified as Abdur Razzak, aged 20, from Chapaiawabganj. The would be suicide bomber in the second attack on Gazipur courthouse managed to survive his attack, even though he killed 2 people.
* A week later, on 12/08/2005, at least 8 people more were killed in a double suicide bomb attacks in Netrakona town, 360 km (220 miles) north of Dhaka. The blast took place in a busy street in the northern town of Netrakona, as police examined a suspicious package, killing 3 policemen.  The second blast occurred 7 minutes later, when rescue forces and by passers gathered on the scene, killing 5 other people. The two bombers arrived on bicycles. One bomber died, the other was injured.
* Related topics –  
–
08/2005 -BANGLADESH BOMBINGS 
1977 -ISLAMI CHHATRA SHIBIR BANGLADESH
************0**************
Read more ;