BBC News
– 8 CASABLANCA CONVICTS ESCAPED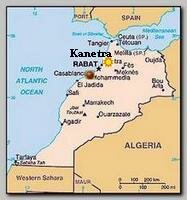 On Monday 04/07/2008, just after morning prayers, 8 Islamic Militant prisoners escaped Kanetra Jail, about 40 km North of Rabat, Morocco's capital. The fugitives left a message on the wall of their jail and claimed that they had suffered injustice.
All the escapees were involved in the Casablanca Bombings from 05/16/2003. 6 were sentenced to death and 2 others to life imprisonment. It is most likely that the militants had some sympathy among the jailers.
In 12/2007, drugs baron Mohammad Ouazzani escaped from the same jail. Eight prison guards were subsequently convicted of helping him. 
–
02/2008 -BADIL AL-HADRI NETWORK 
08/2007 -MEKNES SUICIDE ATTACK  
*****************
Read more ;