– RIOTS IN EGYPT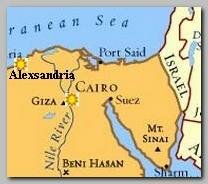 The price of corns raised, world wide, over 50% in the last year and forced the Egyptian government to raise the price of the subsidized basic food products or face a serious budget and economic crisis which can stop the growth of the Egyptian economy.
Food prices were always a delicate matter in the poor Egyptian society and, traditionally, provoked, time and again, unrests, mass demonstrations and wide protests.    
Tuesday 04/08/2008 is the second day of riots in Egypt about food prices and low wages that turned to be violent in some places.
The current unrest, amide municipal elections, scheduled for today, 04/08/2008, plays to the hands of the Islamic social opposition of the Muslims Brotherhood despite the arrest of many of its leaders on Saturday 04/05/2008, and turned out to be a major challenge to the Egyptian regime (See – Arrest 04.05.08 ).
* Related topics –
–
01/2008 -EGYPTIAN CELL PLANED TO ATTACK ISRAEL  
12/2007 -NUWEIBA  STANDOFF 
***************
Read more ;