– DONA RAMONA BLAST
–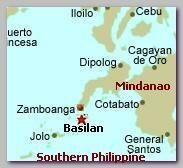 A bomb blast, on 08/29/2005 at about 07:30, on a ferry in the southern Philippines injured at least 30 people, including nine children. The explosion went off while passengers were boarding the Dona Ramona ferry in Basilan due to sail to Zamboanga.   The explosion appeared to have been caused by a home-made bomb.
The island's military commander said a homemade device designed "to sow terror" had been left near gas cylinders in the ferry's canteen. Philippine National Police spokesperson Chief Supt. Leopoldo Bataoil said that prior to the blast police had received "advisories that there will be possibilities of terrorist incidents."
Three days earlier, on 08/26/2005, 26 people were injured by two explosions in the port city of Zamboanga – an attack blamed on Abu Sayyaf. Officials said the same type of explosive, a firebomb, was used in both incidents.
Basilan is the base for the Abu Sayyaf Muslim insurgents, and the island has a history of political violence.
A military helicopter flew the most severely wounded to Zamboanga. No group had so far claimed responsibility for the blast. Three of the seriously wounded died later in hospital.
Aujin Marail, a senior member of the Abu Sayyaf, was nabbed before sunrise, in mid 12/2005, in the remote village of Dita by combined military and police forces . 
"Civilians tipped off authorities about the presence of Aujin Marail, and from there we have build up intelligence and planned his arrest. It is over now," a local military commander said. 
Aujin Marail was one of 53 inmates who escaped a year earlier at the Basilan Jail Break. He was also the prime suspect in masterminding the Dona Ramona Blast. 
* Related topics – 
–
***********************
Read more ; 
MANILA TODAY