– QAZI HUSSAIN AHMED
–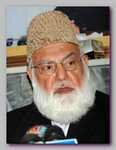 * Qazi Hussain Ahmed, also known as Maulana Sahib, was born in 1938 as the youngest among 10 children, in the house of a known religious figure – Maulana Qazi Abdul Rab at Ziarat Kaka Sahib, NWFP, Pakistan. A teacher by profession, Maulana Sahib excelled in religious knowledge and political influence to the extent that he was appointed as the President of Jamiat-e-Ulema-e-Hind (Society of Indian Muslim Scholars) for NWFP.
After having completed early education at home, Qazi Hussain Ahmed was admitted to Islamia College, in Peshawar and got his Masters of Science (M.Sc.) degree in Geography from Peshawar University. He served as lecturer for three years, teaching at the graduate level. Owing to his inclination towards the activities of Jamaat-e-Islami, he did not continue in teaching profession. After that he started his own business. He marked his presence in this field and was elected as Vice President, NWFP (Provincial) Chamber of Commerce and Industry.
Qazi Hussain Ahmed became member of Jamaat-e-Islami in 1970 and was elected to the office of President of its Peshawar branch. He served Jamaat-e-Islami as Secretary and then Amir (Chief) of NWFP province. He was raised to the office of Secretary General, Jamaat-e-Islami Pakistan in 1978 and after beeing elected as Amir (Chief) of Jamaat-e-Islami Pakistan in 1987, continued to serve in that capacity, getting re-elected thrice (1992, 1994, 1999).
Qazi Hussain Ahmed was first elected as member of the Senate of Pakistan in 1986 for a term of six years. He was re-elected as such in March 1992, but he resigned as a Senator in 1996 in protest against the corrupt political system.
Even before the Soviet Union invaded Afghanistan in 1979, Qazi Hussain Ahmed was in close contact with Afghan Mujahideen and had personal terms with top Afghan leaders. He played pivotal role in introducing Afghan Jihad to foreign world and gaining countrywide support for the movement.
In 1997 Qazi Sahib launched a nationwide campaign to expand membership in his party. His open membership campaign brought 4.5 million new members to the Jamaat-e-Islami.
Qazi Sahib has undergone several rounds of captivity for instigating riots in which people were killed. His recent captivity ensued The 9/11. While Qazi Sahib condemned categorically The 9/11, he opposed, also categorically, operation Absolute Justice and foreign intervention in Pakistan and Afghanistan and, therefore, Pervez Musharraf's regime, which was allied to USA. 
Qazi Hussain Ahmed is a firm believer in the unity of Muslim Ummah (Nation of Islam).  and has strived to unite the Muslims of Pakistan. Thanks to his restless efforts all major religious parties of the country have united under the banner of Muttahida Majlis-e-Amal – MMA (United operational Council) under his leadership. .Qazi Hussain Ahmed has rebutted repeatedly charges that his party has any links with Al Qaeda.
Appearing on BBC's program 'Hard Talk' on 08/23/2005, Qazi Hussain Ahmed acknowledged that he knew Osama Bin Laden but did not believe that any credible evidence has been produced to implicate him in The 9/11 attacks in USA.
In the same interview he condemned the killing of Palestinian people by Israel, USA bombing in Iraq and Afghanistan which killed tens of thousands of people.
Today (03/2009) Qazi Hussain Ahmed is still a prominent figure in NWFP, Pakistan. He is banned from 2004 entering over 25 countries in Europe for reasons of National Security and is banned from 2007 to enter Egypt.
* Related topics – 
–
2008 -PAKISTAN'S  MILITANTS  
**********************
Read more ;