–  PALAWAN ABDUCTION
–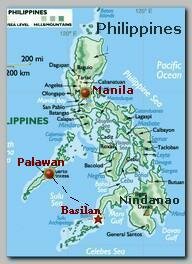 On 05/27/2001, about a year after the Sipadan Hijacking, Muslim Abu Sayyaf guerrillas seized 17 tourists and 3 staff members at a tourist resort on Palawan Island, central West Philippines and took them captive, on speed boats, to Southern Philippines to a remote island near Basilan. The hijacking took place at Dos Palmas, a luxury resort two hours by boat from the capital of Palawan province, Puerto Princesa.
Witnesses described how the gunmen landed, burst into the resort's waterfront cottages and dragged out terrified guests. There were more than 20 raiders, who were wearing ski masks and carrying automatic rifles and a machine gun.
The captives included three USA citizens: Guellermo Sobero and missionaries Martin and Gracia Burnham. Philippine troops fought a series of battles with the guerrillas between June 1 and June 3, 2001 during which 9 hostages escaped and two were found dead. The guerrillas took additional hostages when they seized the hospital in the town of Lamitan. On 06/12/2001, Abu Sayyaf spokesman Abu-Sabaya claimed that Guellermo Sobero had been killed and beheaded by Alhamser Manatad Limbong, who was captured with the Zamboanga Cell in 03/2004, after the demand of the hostage tackers the release of Ramzi Yousef was denied – his body was found in 10/2001.
On 06/07/2002 USA hostage Gracia Burnham was rescued, but USA hostage Martin Burnham and Filipina Deborah Yap were killed during a rescue operation of Philippine military. The kidnapping, according to USA intelligence, was masterminded by Radulan Sahiron .
Epilogue – 
On 02/24/2006 USA indicted, in absentia, five Abu Sayyf  operatives with kidnapping and murder in the Palawan hijacking case – Khadafy Janjalani; Hamisarji Marusi Sali, Jainal Antal Sali, known as Abu-Sulaiman; Aldam Tilao and Isnilon Hapilon.  
* Hajer Sailani, one of the participant, was arrested, eventually, on 09/01/2009.
* Abdukarim Sali, also in the hijacking team, was killed in Basilan on Sunday 09/19/2010.
* Umbra Jumdail, one of the perpetrators, was killed in an air strike, on 02/02/2012, alongside Muawiyah Anjala, in the Southern Filipino island of Jolo.
* Harun Jaljalis, another perpetrators, was arrested in Basilan on 02/02/2012.
* Related topics –  
–
12/2007 -MOBIN ABDURAJAK KILLED IN TAWI-TAWI
12/2007 -'ABU SAYYAF' JAILED IN THE PHILLIPPINES  
02/2005 -VALENTINE'S DAY SQUAD  
***********************
Read more ;