– PHILIPPINES'S TERROR
–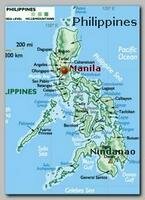 * On 02/20/2003, a remote controlled bomb exploded near the entrance gate to the local Mindanao airport. A soldier and 8 civilians were wounded.  The bomb was a mixture of small quantity of TNT placed n a fuel container to maximize the damage. Authorities believed that the INDONESIAN JI staged the attack.
* On Monday 05/03/2004 the Pilipino police stopped a white van near a local regional office of the election supervision administration, and close to a church. The police arrested 2 Islamic activists with a bomb assembled from mortar shell. 
* On 06/12/2004 2 policemen where killed and other 2 wounded when they tried to defuse a bomb near a restaurant in Zamboanga, in the far South of the Philippines. Authorities believed that the attack was executed by Abu Sayyaf. .
* On 12/24/2004 a bomb, designed to be activated by remote control, was defused in a bus in Manila. Authorities believed that the INDONESIAN JI was behind the failed bus bombing.
* On 08/11/2005, tow suspected members of Abu Sayyaf have been arrested, following a week earlier double bombing in the southern city of Zamboanga, which injuring 26 people. The two suspects were nabbed with four other men by a military patrol on the southern island of Jolo. Two rifles and ammunition were seized from the group. Four men were later released but the two: Kamdon Yunos and Robin Daud, were found to have "questionable" records and remain in military custody
* on 09/29/2005, soldiers and policemen arrested in North Cotabato four suspected bombers and seized an explosive device build from a 60mm mortar shell with a mobile phone trigger in North Cotabato.
The suspects, identified as Kasan Datukon, 29, Abdulsalam Abu, 30, Suhuddin Danda, 25, and Omar Bantas, 29, were nabbed at around 07:00, during a routine inspection at a road checkpoint in Pigcawayan, Southern Philippines. Kasan Datukon placed the bomb inside a bag on the floor at the front seat of the minibus that was heading for Cotabato City. Intelligence sources said the four detainees were, probably, new recruits of Abu Sayyaf. 
* Related topics –  
–
***************************
Read more ;