– NISHTAR PARK BOMBING
–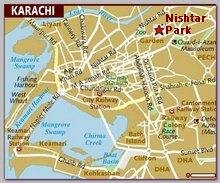 On 04/11/2006 evening, in Nishtar Park, Karachi, during a ceremony to mark the anniversary of the Prophet Muhammad's birth, a bomb went off near the wooden stage, where local Sunni clerics were sitting.
57 people were killed in the blast and over 150 others were wounded. The Pakistani police said the attack was carried out by a suicide bomber who deliberately targeted the religious leaders.  Amongst the dead were chief of Ahl-as-sunnat (The Sunni Community) and prominent social figure Haji Hanif Billio, chief of Sunni Tehreek (Sunni Movement) Iftikhar Bhatti, Sunni Tehreek's senior leaders Abbass Qadri and Akram Qadri and Jamiat-ulema-e-Pakistan's (The Society of Pakistan's Islamic Clergy) leader Hafiz Taqi. The Sunni Tehreek movement in Pakistan is considered as a very moderate peaceful organization. 
Angry crowds later went on the rampage in Karachi, accusing the police of failing to provide adequate security.
The attack was condemned by Shiaa leader Allama Hassan Turabi as well as President Pervez Musharraf and Prime Minister Shaukat Aziz.
No-one has claimed responsibility for the explosion at what was believed to be the biggest of such events being held in Pakistan.
On 04/20/2006 sources close to the investigation told the Media that the device used in the Nishtar Park blast was of C-4 type, the most powerful type of explosives also used in an attempt on President Pervez Musharraf's life in December 2003 as well as in other high-profile bombing cases.
On 06/15/2007 the Pakistani authorities issued a statement claiming to have identified the terrorist network behind the 2006 Nishtar Park bombing. The suicide bomber was identified as Mohammad Siddiq, son of Isreal, from Seri Karnashi village in district Mansehra, NWFP. He is said to have had links with the Lashkar-e-Jhangvi.
According to the official statement, the network was based in Darra Adam Khel. The group has been involved in identifying, preparing and brainwashing people for suicide bombings to be carried out in Pakistan and Afghanistan. The leader Amanullah (Mufti) is said to be expert at making and using the explosive jackets used in such crimes.
The Home Department's statement says that "the motive of Lashkar-e-Jhangvi behind committing this offence was to create unrest and a law and order situation in Sindh in order to avenge the present government's policy against religious extremism."
The statement claims that the group Mohammad Siddiq belonged to was also involved in the 06/14/2004, bomb blast in Orangi Town, an attempt on Allama Hasan Turabi's life on 04/06/2006, and Allama Turabi's assassination on 07/14/2006.
* Related topics –
–
05/2002 – KARACHI SHERATON BOMBING
KARACHI OUTLETS BOMBINGS – 2005
******************************
Read more ;