– 9 SUNNI MILITIAS KILLED IN IRAQ
–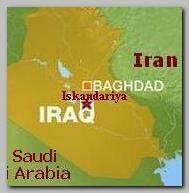 A suicide bomber has attacked, on Saturday 04/11/2009, a USA-allied Sunni militia group in Iraq, killing at least nine people and wounding 31 others, police say.
The bomber struck as militiamen from a local Awakening Council were waiting to collect their salaries at an army post in Iskandariya, about 50km (30 miles) south of Baghdad.
The US-sponsored Awakening councils have helped cut violence in Iraq after turning against Al Qaeda. But this has made them a target for militants.
The bomber in Iskandariya was wearing a belt of explosives, which he detonated after mingling with militiamen who had gathered to receive their monthly pay, security sources say.
Relations between the Awakening Councils and Iraq's Shiaa-led government – which formally took control of the Awakening movement, on 04/01/2009, – have worsened in recent weeks (see – CRUCIAL PROCESS ).
Last month the arrest of a leader of one of the councils in Baghdad sparked clashes between militiamen and government forces (see – FRAGILE IRAQ ).
The past week has seen a number of attacks in Baghdad and Mosul to the north. The BBC's Jim Muir in Baghdad says the upsurge has raised concern, especially as US troops are preparing to withdraw in the coming months.
But the general picture is that the security situation remains much better than it was two years ago, our correspondent says.
* Related topics –  
–
*************N*************
Read more ;