– QARI MOHAMMAD ZAFAR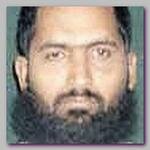 * Qari Mohammad Zafar is originally from Karachi. He was named as one of the banned Lashkar-e-Jhangvi senior leaders. Qari ZAfar is wanted for questioning in connection with the 03/02/2002 US Consulate Bombing in Karachi, Pakistan. The attack killed three Pakistani citizens and David Foy, a USA diplomat. An Award of $5 millions was offered by USA on his head.
Qari ZAfar became a trusted figure of Al Qaeda's inner circle. He also enjoys the protection of Pakistani Taliban commander Baitullah Mehsud and is believed to be hiding out in the lawless South Waziristan tribal area of NWFP. Practically Qari ZAfar ran a group of his own.
On 02/18/2007, Qari ZAfar escaped from the custody of security services in the Punjabi capital, Lahore.
Qari ZAfar was pointed out by Pakistani investigators and intelligence employees as the mastermind of the Marriott Bombing in Islamabad, on 09/20/2008. Some of his men have been arrested in Punjab which further confirms his involvement in the whole scheme, an official said.

The connection to Qari ZAfar was established from phone numbers found on the mobiles of some of those arrested in Punjab. Qari Mohammed Zafar, was killed by a UAV missiles attack on Wednesday 02/24/2010 (see – Zafars Death). According to intelligence sources Mohammed Qari Zafar was replaced by Mufti Abuzar Khanjari.


* Related topics – 
–
03/2008 -16 KILLED IN A MISSILES STRIKE 
2005 -KARACHI OUTLETS  BOMBINGS  
02/2002 -KARACHI JAIL VAN  ATTACK
************************************


Read more ;