– 8 MILITANTS ARRESTED IN BANGLADESH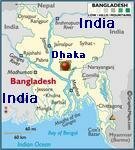 The elite police Rapid Action Battalion, known as RAB,i n Bangladesh, on Sunday 04/12/2009, captured 8 members of a banned Islamist outfit, Jamaat-ul-Mujahideen Bangladesh, three of whom are believed to be members of its suicide squad, from Dhaka's Khilkhet areas, officials said.
The members of the elite anti-crime Rapid Action Battalion also seized a large quantity of bomb-making materials, leaflets, books on jihad, religious CDs, audio cassettes from their possessions.
The capture and seizures came barely two days ahead of the celebration of Bangli New Year on Tuesday. The lawmen suspect that the militants might have plans to obstruct the celebration.
"The militants are apparently trying to regrouping following their network were dismantled after execution of their kingpins," said Kamruzzaman, an assistant superintendent of police.
Earlier in March, police unearthed a bomb factory at a religious school run by a British in southern Bhola district, and captured a Briton who heads the Green Crescent (see – Bhola 03.25.09).
* Related topics – 
–
12/2008 -EXPLOSIVES SEIZED IN BANGLADESH  
*************-N-****************
Read more ;