– BAITULLAH MEHSUD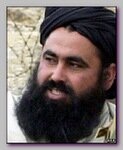 Baitullah  Mehsud was born in the early 70s', probably 1973, in Landidog, a small tribal village situated on the fringes of South Waziristan, Pakistan. Baitullah  Mehsud grew up in the Islamic mobilized atmosphere of the war against the Russians in neighbor Afghanistan. He did not finish regular or religious schooling and became, on his own, a prominent local military leader in South Waziristan. Baitullah  Mehsud is married. He is very tough physically and mentally according to his acquaintances.
In 1994, as a young Madrassa (Islamic theological school) student, Baitullah  Mehsud was greatly inspired by Taliban ideology and frequently went to Afghanistan as a volunteer to join in the Taliban's enforcement of Sharia (Islamic law) and to offer his services as a lieutenant of the legendary Afghan Taliban commander, Jalaluddin Haqqani .
His way to a top local military leadership in South Waziristan was paved by the high mortality rate of the older and more experienced leaders – leaders who were killed by American troops in Afghanistan ever since operation "Absolute Justice",  in 12/2001, or by Pakistani security forces. Baitullah  Mehsud avoided any connection with the media to make it difficult for security forces and the outside world to recognize him.
After operation "Absolute Justice", Baitullah  Mehsud pledged himself to Mullah Omar, the Taliban leader.
On 02/07/2005 Baitullah  Mehsud signed a cease fire deal with the federal Pakistani government where he agreed not to attack Pakistani government soldiers, positions or institutions and not to provide support to Al Qaeda – in return, the Pakistani security forces will not take military action against him and his followers. As a result of the peace agreement, South Waziristan is relatively calm, especially when compared to North Waziristan.
The Pakistani authority pointed a finger toward Baitullah  Mehsud as the prime suspect of the Rawalpindi bombs attack from 09/04/2007 (see – Rawalpindi 09.04.07).
On 12/29/2007, two days after Benazir Bhutto assassination, the Pakistani regime claimed that its intelligence – ISI, managed to intercept a phone call between Baitullah  Mehsud and an Islamic cleric, Maulvi Shahib, in which Maulvi Shahib admitted responsibility for Bhutto's assassination. Pakistan regime blamed, therefore, Maulvi Shahib and Baitullah  Mehsud for being responsible on the attack.
On 04/24/2008 Baitullah  Mehsud ordered his followers to stop all attacks in Pakistan, just two days after the release of Sufi Mohammad, probably as a part of yet another Pakistani reconciliation deal.
In early 2008 Baitullah  Mehsud was one of the founder and leaders of the pro-Taliban alliance in Pakistan – Tehrik-e-Taleban . Baitullah  Mehsud was, probably, killed in an American UAV drone missile strike, on Wednesday 08/05/2009 (see – Ladha 08.05.09 ).
Hakimullah Mehsud, the senior lieutenant of Baitullah  Mehsud, succeed Baitullah as the head of Tehrik-e-Taleban (see – TTP 08.22.09 ).
* Related topics –
–
01/2006 -DAMADOLA AIR STRIKE  
************
Read more ;