– KOSTOYEV'S ASSASSINATION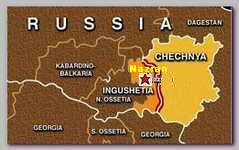 * Dzhabrail Kostoyev was the deputy interior minister of the southern Russian republic of Ingushetia. He was among at least seven people killed in a car bomb attack, on 05/17/2006 at 08:07, in Ingushetia's largest city of Nazran.
Dzhabrail Kostoyev, who led counter-insurgency efforts in Ingushetia, was driving in an armored Chevrolet S.U.V on his way to work in the main city of Nazran when his car was hit by a blast in what appeared to be a remote controlled road side bomb. He oversaw the Ingush police and had been the target of several previous assassination attempts.
Dzhabrail Kostoyev's two bodyguards and four civilians were also killed in the attack. The civilians were in at least one other passing car that was caught up in the explosion.
Ingushetia suffered from the conflict in neighboring Chechnya and security officials have not ruled out that the attack was linked to militant groups in the region.
On the same day Islamic insurgents ambushed a Russian army convoy near the village of Nikikhita, in Chechnya, killing five soldiers and wounding six other. In Karachayevo-Cherkessiya, another Caucasian Russian autonomy, the acting chief of a prison was shot dead by gunmen.
Attacks against Russian officials have become commonplace in Ingushetia, Dagestan and other provinces in the North Caucasus near Chechnya.
Earlier this week in Dagestan, a dozen Russian security officers were injured and one killed in a shootout with militants. Two rebels also died. The authorities said they had been plotting to seize a school, as happened in Beslan, North Ossetia in 09/2004.
* Related topics –  
–
05/2004 -KADYROV  ASSASSINATION  
***************************
Read more ;