– SANCTIONS ON A CHINESE ALLEGED TERROR LEADER
–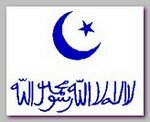 The Obama administration imposed, on Monday 04/20/2009, financial sanctions on an alleged terror leader, known as Abdul Haq, 43, accused of trying to carry out attacks at last year's Beijing Olympic Games in China.
The Treasury Department's target Abdul Haq is the head of the Eastern Turkistan Islamic Party [ETIP]. The action means that any bank accounts or other financial assets found in the United States belonging to him must be frozen. Americans also are barred from doing business with Abdul Haq, who is Chinese.
Stuart Levey, the Treasury Department's undersecretary for terrorism and financial intelligence, said Abdul Haq commands a terror group that sought to sow violence at the 2008 Olympic Games. "Under Haq, trained terrorists planned to sabotage the Olympic Games by conducting terrorist attacks within China before the Olympics began," the department said (see – CHINA-2008).
A police station in China's Xinjiang was attacked four days before the Beijing Olympics began, killing 17 officers.
The United States already has branded the Eastern Turkistan Islamic Party, or ETIP, a terrorist group and said it has helped to support Al Qaeda.
On 11/16/2008, a self-proclaimed Al Qaeda spokesman named Muhammad Uighuri (according to his name he is an Uyghur of Xinjiang province in North-West China), claimed that Osama Bin Laden has appointed a leader for a previously unknown organization called Al Qaeda in China. Uighuri said the new leader of the Chinese Al Qaeda for China in general and for Xinjiang province in particular was a Chinese citizen named Abdul Haq.
Abdul Haq can be translated as "servant of justice" is probably a nick name.
* Related topics – 
–
*************-N-***************
Read more ;  
POST-GAZETTE