– BOMMIE PENNER WITHERALL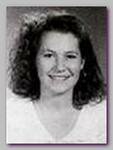 American Missionary Bonnie Penner, 31, married and professional nurse, was murdered in Sidon, Lebanon, on 11/21/2002.  She was the first American slain in Muslim-majority country in more than a decade. A 1996 graduate of Chicago's Moody Bible Institute, Bonnie Penner  was shot three times in the head by a lone gunman when she answered his knock at the door of the clinic where she worked as a prenatal nurse. The clinic is part of the Unity Center, which, along with a chapel, is operated by the regional Christian and Missionary Alliance.
Sheik Maher Hammoud, one of Sidon's Sunni Muslim religious leaders in charge of Sidon's Al-Quds Mosque, expressed previously concern about the Christian and Missionary Alliance because its members combined computer lessons, English instruction and gift of toys and candy with Sunday school classes for hundreds of Muslim children. "'It was upsetting to hear about this because they were trying to exploit their poverty to try to get them to change their religion" said the sheik, who began denouncing the missionary alliance in fall 2001 from the pulpit. 
* Related topics – 
2002-3 -THE PIZZA HUT NETWORK 
*********************************
Read more ;