– SAMPSON'S PRISONERS DEAL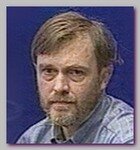 In 06/2003 the Saudi Authorities released from jail in Saudi Arabia 7 Western citizens: a Canadian, a Belgian citizen Raf Schyvens, and five Britons, who were jailed for deferent offences of illegal alcohol trade (a serious offence in Saudi Arabia). They were permitted to leave the kingdom on 08/08/2003.
Among the released detainees was also the Canadian/British citizen William Sampson (pic), who was facing a public beheading in Saudi Arabia, having been convicted of carrying out bombings that killed a British engineer Christopher Rodway and injured several others. William Sampson was arrested on 12/17/2000 in Riyadh. The Saudis claimed that the bombings were part of a turf war within a Western liquor trafficking ring.
In 07/2004, it was revealed that the final release was part of a prisoner exchange for the release of five Saudis from the USA prison camp in Guantanamo. The Saudis claimed that the five former Guantanamo inmates were in Afghanistan on a humanitarian mission and were not involved in any terrorist acts.  The five were identified as Fahd Abdallah Shabaani, Ibrahim bin Omer al-Omer, Mishale Ashadouki, Fawaz Zahrani and Khalid Zahrani probably a relative of Fawaz Zahrani.
The British Guardian quoted a brother of Fahd Abdallah Shabaani as saying his brother had been arrested in Afghanistan during the month of Ramadan in 2001 (11/2001) for being an active member of Al Qaeda.
* Related topics –   

12/2003 -LIST OF 26 MOST WANTED SAUDIS
05/2003 -RIYADH SUICIDE ATTACK
PROFILE -KHALID AL-ZAHRANI  
*************************************
Read more ; 
SALON.COM