– U.S STRATIGIC BASE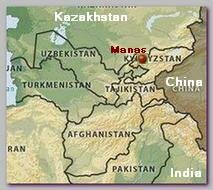 Kyrgyzstan's parliament unanimously approved, on Thursday 06/25/2009, a deal allowing the USA to continue using Manas air base, crucial to military operations in Afghanistan, sharply shifting course months after ordering American forces out by August.
Lawmakers voted 75-0 and 5 abstained to ratify the agreement, providing a much-needed boost to NATO-ISAF coalition as it ramps up military operations against Taliban and Al Qaeda militants and struggles to maintain other supply routes into Afghanistan.
The deal apparently will continue to allow the USA to transport weaponry, ammunition and troops as well as non-lethal military supplies and, partially, bypasses the main route of supply through Pakistan, which is under growing ongoing threat from the Tehrik-e-Taleban and alike. Pakistan is currently in a situation of a CIVIL WAR with its radical militants (see – PAKISTAN REPORT).
The Manas air base in Kyrgyzstan, with a close and fast access to Russian Siberia, West China and North Pakistan has also tremendous importance in Intelligence gathering on one of the most remote and inaccessible regions of the world.  
The decision effectively reverses an eviction order under which USA forces were to leave by 08/18/2009.
USA officials have said Russia was behind that decision. Kurmanbek Bakiyev, Kyrgyzstan's president was sitting next to Russian President Dmitry Medvedev when he made the announcement, hours after Moscow pledged more than $2 billion in aid, loans and investment for the struggling ex-Soviet republic.
Russia has long warily eyed the USA military base deep in its traditional sphere of influence. But Moscow, hoping for better ties with Washington under Barack Obama, now appears eager to cooperate with the USA on Afghanistan.
U.S. forces have had access to Manas, outside the Kyrgyz capital Bishkek, since 2001. Its importance to Afghan operations grew after neighboring Uzbekistan evicted USA troops from a base there in 2005.
Under the new deal, the USA will pay Kyrgyzstan $60 million in annual rent for the facility, up from $17.4 million. The USA will also allocate $37 million to build new aircraft parking slots and storage areas, plus $30 million for new navigation systems. Washington has also committed to giving Kyrgyzstan $51.5 million to combat drug trafficking and terrorism and promote economic development.
Mars Sariyev, an independent Kyrgyz political analyst, suggested the details were left vague to allow Kyrgyzstan, in agreement with Russia, to impose restrictions on USA use if the Kremlin is unhappy with the outcome of the Obama-Medvedev summit in 07/2009. In the center of the meeting is the USA plan to deploy an anti-missiles system in East Europe and the support for Georgia (see – Georgia Crisis), which outrage the Russians and is a major obstacle to full cooperation between Russia and USA over the nuclear proliferation in Iran and North Korea.
* Related topics – 
–
11/2008 – NUCLEAR  PROLIFERATION  
12/2007 – IRANIAN  CAPACITY 
**************A**************
Read more ;