– GAMEEL AL-BATOUTY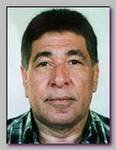 * Gameel El-Batouty was born on 02/02/1940 in Egypt. His father was a mayor and a landowner and family members were well educated and affluent.
Gameel El-Batouty had been drafted into the Egyptian army in the late 50s', where he was trained as a pilot and flight instructor. While in the Army, Gameel El-Batouty served as a pilot in both the 1967 Six-Days war and the October 1973 war.
Gameel El-Batouty then worked for a time as an instructor at the Egyptian Air Institute and became an Egypt-Air employee in 09/1987.  He had logged 12,538 hours of flight time with Egypt-Air. At the time of EGYPT-Air 990 crash, on 10/31/1999, Gameel El-Batouty was the most senior first officer flying the 767 at Egypt-Air mainly because he did not have sufficient English proficiency.
Some investigators learned that Gameel El-Batouty was supposedly reprimanded for inappropriate behavior with female guests at the Hotel Pennsylvania, a New Yorker hotel often used by Egypt-Air crews. Hatem Roushdy, an Egypt-Air official said to be responsible for the alleged reprimand, was a passenger on Flight 990. The details of the reprimand included the removal of Gameel El-Batouty's privilege of flying any flight to the United States, and that Flight 990 would be, most likely, his last.
Gameel El-Batouty was married and had five children. The youngest, Aya, who was ten at the time of the crash, suffered from Lupus, and was undergoing medical treatment in Los Angeles. Efforts had been made at Egypt Air, both at a company level and at an employee level, to provide assistance to help defray the medical expenses.
Gameel El-Batouty was approaching retirement (aviation regulations prevented him from flying as a commercial airline pilot after age 60. He owned a 10-bedroom villa outside of Cairo and a beach house near El-Alamin on the Mediterranean shore.
The motive and death of Gameel El-Batouty remained an unsolved enigma.

  

 
.
* Related topics –
–
11/1995 -ISLAMABAD, EGYPTIAN  ENBASSY BOMBING  
.
**************************
Read more ;
–