– TAHIR NASUF'S CELL
–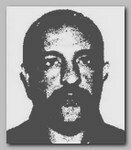 After a year of surveillance the British police raided, on Wednesday 05/24/2006, 19 addresses and properties in Manchester, Liverpool, Middlesbrough, Bolton, Birmingham and London. Eight people from Libyan descent were arrested: three were arrested under the terror act 2000 and five others for immigration violation, fraud and documents forgery.
The cell was headed by Tahir Moustafa Mohamed Nasuf, born on 11/04/1961 in Libya who moved to Manchester in 1993 and is married with four children. The offices of a Tahir  Nasuf worked for – the Sanabel Relief Agency (SRA) – were also raided in Birmingham. Tahir  Nasuf was at the time one of three trustees and a director of SRA.
The three terror detainees were suspected of aiding attacks on targets in Iraq.
Already on 02/08/2006 Tahir  Nasuf and four others: Abd Al-Rahman Al-Faqih (see – AF-Case), Ghuma Abd'rabbah, Abdulbaqi Mohammed Khaled and Mohammed Benhammedi were accused by USA of financing the Libyan Islamic Fighting Group (LIFG). Accusations Tahir  Nasuf totally denied (see also the story of Noman Benotman)
Tahir  Nasuf was one of five who had successfully challenged, in 04/2008, in the British High Court the government's powers to freeze terrorist suspects assets (see also – Mohammed al-Ghabra).
Today (08/2009) Tahir  Nasuf was not, yet, sentenced and his judicial status is unclear.

   
.
* Related topics –
–
2006 -RANGZEIB AHMED – MANCHESTER CELL 
.
************************
 Read more ;
–
MYPETJAWA