– ABBAS BOUTRAB
–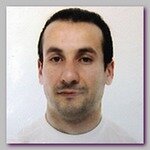 * Abbas Boutrab was born in Algeria in 1973. He fled Algeria in the early 90s', probably when the civil war in Algeria breached out in 1992.  Abbas  Boutrab had applied for asylum in the Netherlands in the 1990s' using the name Brahmin Abaoui.
In 2001 Abbas  Boutrab had applied for asylum in the Republic of Ireland with the name Yosef Jafari.
Abbas  Boutrab was initially arrested and released in 2002 on suspicion of being an illegal immigrant in Northern Ireland. Calls that he made while in detention led police to rearrest him on immigration offenses in Newtownabbey, near north Belfast, in 04/2003. At the time of his arrest, Abbas  Boutrab was seeking work in Northern Ireland using a false passport in the name of Fabio Parenti, an Italian tourist whose passport was stolen at Dublin airport, on 09/01/2001. In Belfast Abbas  Boutrab got acquainted with Dr. Kafeel Ahmed who was studying for a master's degree in aeronautical engineering at Queen's University between 2001 and 2004.  
Italian, Dutch, French and Irish police forces had assisted the investigation along with the FBI and the British security service MI5. On 11/03/2003, while already in custody, Abbas  Boutrab was officially arrested for terror related suspicions and charged on 11/10/2003.
Police found in his possession 25 computer disks onto which Islamist instruction manuals, downloaded from the Internet, on how to construct bombs suitable for smuggling on to airplanes. The tiny bomb, in a tin of talcum powder, contained only 200g of explosives. But FBI tests on a scrapped Boeing jet found it blew out the windows and tore a jagged hole in the aluminum skin that would have caused the aircraft to explode in midair.
Police also found a circuit board from which had been removed four capacitors, which could be used in the construction of detonators.
Abbas  Boutrab, who has been arrested in Paris and Holland over the past 13 years for theft offences, has used at least 10 false identities. Police found he was wanted in the Irish Republic under the name of Abbas Fawaz, using a faked Dutch passport, for dangerous driving. He was also wanted as Yosef Jafari for a stabbing. Indeed the police are not sure whether Abbas  Boutrab is his original identity. Police also revealed Abbas  Boutrab was wanted in the Irish Republic for attempted murder in 2002.
On 11/24/2005, Abbas  Boutrab was found guilty, in a special Belfast Crown Court without jury, of two terrorism charges – possession of articles likely to be of use for terrorism and collecting information likely to be of use for terrorism.
Abbas  Boutrab was found not guilty at Belfast Crown Court on two lesser charges. On 12/20/2005 Abbas  Boutrab was sentenced to 6 years imprisonment.
On 07/11/2008 Abbas  Boutrab was deported back to Algeria.
.
* Related topics – 
–
PROFILE – KHALFAN KHAMIS MOHAMED
.
******************************
 Read more ;
–