– INDIA WARNS OF CONCRETE TERROR THREAT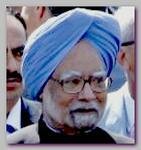 Credible information suggests terror groups in Pakistan are planning to stage new attacks on India, Indian PM Manmohan Singh said, on Monday 08/17/2009, in New Delhi.
Speaking Monday on internal security at a conference of chief ministers of Indian states, the prime minister said cross-border terrorism remains India's most pervasive threat.
"There is credible information about ongoing plans of terrorists in Pakistan to carry out fresh attacks. The area of operation of these terrorists today extends far beyond the confines of Jammu and Kashmir and covers all parts of our country," Singh said, the Times of India reported, adding he did not name any specific group.
India has blamed the Lashkar-e-Toiba in Pakistan for organizing the terror attacks in Mumbai Carnage last November in which more than 160 people died. The Indian government has said the stalled peace talks with Pakistan cannot resume unless Pakistan takes credible action to end such alleged cross-border attacks and brings those responsible for the Mumbai attacks to justice.
Singh said India has taken several measures to improve security but added "there is need for continued vigilance," the Press Trust of India reported.
Reacting to Singh's comments, Pakistani Foreign Office spokesman Abdul Basit said his government asked India to share the information, Dawn newspaper reported.
Basit said the director general of the Foreign Office summoned the Indian envoy to say Singh's "remarks warranted serious and prompt attention." The report said the Indian envoy was told India and Pakistan had agreed last month to share information on terror threats.
.
* Related topics – 
–
12/2008 -MUMBAI CARNAGE INVESTIGATION REPORT
.
*************N**************
Read more ;
–