– CEUTA ARRESTS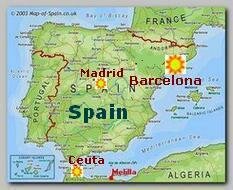 Police in the Spanish enclave of Ceuta, on the Moroccan coast of the Mediterranean, have arrested, on 12/12/2006, 11 terror suspects in a swoop. Two of the detainees are brothers of the former Guantanamo inmate Ahmad Abd al-Rahman Ahmad. The police seized forged documents, a flak jacket and an air pistol as well as cash, computers and mobile phones from the suspects' homes, 
The investigation into radical Islam in Ceuta which led to the arrests began in March 2005, the Interior Ministry said. Those arrested were all men in their 20s and 30s.
The court jailed seven of 11 suspected Islamic militants and freed the other four on bail five days later, on 12/17/2006.
The seven are suspected of belonging to an armed group called Salafia Jihadiya, part of Al Qaeda's operation in North Africa, Judge Baltasar Garzon said in a document.
"The focus of this group is the Darkawia mosque. In this the leaders of the group…carried out proselytising and recruiting workto create a Yihad (Jihad) with international connections in Morocco, using common crime as a means of finance," Baltasar Garzon added. In 2006 the group started planning acts of violence and plotting to steal weapons from a military arsenal.
.
* Related topics – 
–
09/2004 -BARCELONA  ARRESTS
.
Read more ;
–
ALERTNET