– IRUN ARRESTS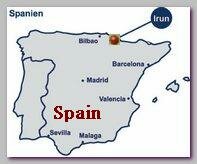 Spain interior ministry announced, on 12/09/2004, police have arrested in the Basque town Irun, near Spain's border with France two suspects related to the Madrid Trains Bombing.  
Adman Waki was born on 06/02/1976 in Aleppo, Syria. He was "an important person" in the structure behind the bomb plot. He handled many cell phone calls with five of the Leganes suspects, especially with Serhane Farkhet, before they blew themselves up on 04/03/2004.   
Adman Waki has been under police surveillance for several months by Spanish secret service agents, according to El Pais. He has allegedly made several trips abroad, notably within Europe, during which he apparently raised funds for an Islamic terrorist network. Working as a mason he was based in Irun, in the north-eastern Basque region of the country, where the arrests were made.
The second suspect was named as Ahmed Ibrahim Kassem, He was born on 06/08/1977 in Shakria, Egypt.  Ahmed Ibrahim Kassem also lives in the Basque region.
Eventually both suspects were not charged of terror offences in general or related specifically to the Madrid Trains Bombing.
 .
* Related topics – 
–
04/2004 -THE MADRID TERROR  SUSPECTS
************************
Read more ;
–