– SHAWQI AHMAD OMAR
–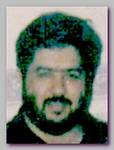 * Shawqi Ahmad Omar is a USA citizen from Jordanian descent. He was born in Kuwait in 1962. Shawqi Ahmad Omar came to the USA on a student visa in 1979. He became a naturalized American citizen, in 1986, following his marriage to the former Sandra Kay Sulzle, whom he married in 1983. Also in 1983 Shawqi Ahmad Omar served in the Minnesota National Guard for about 11 months. In 1995 Shawqi Ahmad Omar moved to Jordan with his wife and their five children.
After the overthrow of Saddam Hussein's regime, in 04/2003, Shawqi Ahmad Omar traveled to Iraq seeking reconstruction-related work and rented am apartment in Baghdad.
He was captured in Iraq, in late 10/2004, in his Baghdad apartment, during a raid on associates of Abu Musab al Zarqawi, for allegedly supporting the insurgence against USA troops and held, initially, in an American run camp in Iraq. Shawqi Ahmad Omar was handed over to the Iraqi authorities. The Iraqi government alleged that four Jordanian foreign fighters and an Iraqi insurgent were captured along with Shawqi Ahmad Omar, and that weapons and improvised explosive device making materials were found in his home.
In August 2005, the USA led Multi National Force in Iraq decided to refer Shawqi Ahmad Omar to the Central Criminal Court of Iraq (CCCI) for trial.
On 12/12/2005, Omar's wife, Sandra, and son, Ahmed, filed a petition in the United States District Court of Columbia for a right of habeas corpus, together with Mohammed Munaf family (see – Kidnapped Romanians ).
The court ruled out, on 10/13/2008, that the case was out of its legal jurisdiction.
.
* Related topics – 
–
08/2004 -AMMAN – AL TAIFA AL MANSOURA CELL 
03/2004 -AMMAN CHEMICAL  PLOT 
2001-9 -U.S JIHADI DETAINEES
.
***********************
 Read more –
–