– AN IRANIAN MADE ROCKET HIT A MALL IN ISRAEL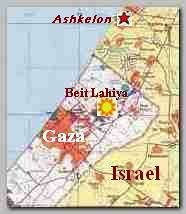 On Wednesday 05/14/2008, during the visit of USA President Bush in Israel to mark the 60 anniversary of the Jewish state and in the middle of a meeting with the Israeli Prime Minister Ehud Olmert, at about 17:20, a Grad rocket, fired from Northern Gaza Strip, hit a mall in Ashkelon and wounded over 30 by passers.
The Grad rocket is a long range Russian type military Katiusha rocket. The rocket that hit Ashkelon, 10 km North of Gaza Strip, was manufactured in Iran and smuggled all the way from Iran through Egypt to Gaza Strip.
The PALESTINIAN Islamic Jihad took responsibility on the attack while the Hamas, who is negotiating, through Egypt mediation, a sort of a mutual "relaxation", issued a statement in which he congratulates the Islamic Jihad for its "achievement".
From the 30 civilians wounded two, a mother and her young daughter, are in critical condition. 
So far only the "Doctors without borders" humanitarian organization condemned the intentional, deliberate attack on civilians. 
* Related topics –  
–
04/2008 -ISRAELI MINISTER TARGETED BY PALESTINIAN SNIPER  
01/2008 -SERIOUS DETERIORATION AROUND GAZA  
01/2008 -TWO ROCKETS FROM LEBANON HIT ISRAEL  
******************
Read more ;