– 8 TALIBAN KILLED IN A BLAST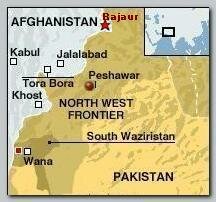 Eight suspected as Taliban fighters were killed by a mysterious explosion, on Wednesday 05/28/2008, in North Pakistan, on the border with Afghanistan in Bajaur district near the town of Salarzani. Several more gunmen were wounded. 
According to local sources the men were traveling to a tribal meeting which was to decide the fate of one of their captured fighters, who had been blamed for an attack on an officer of the government-backed tribal police this week.
Local residents claimed a US UAV drone from neighboring Afghanistan was in the air when the truck exploded, suggesting it might have been hit from the air.
The accident occurred few km away from Damadola where 12 suspected Taliban were killed on 05/14/2008 by what appeared a missile attack fired from an unmanned US predator drone. (See – Damadola 05.14.08 )
Israel is using unmanned drone systematically, in large scale, successfully and for many years in its war on terror for reconnaissance missions and target killing. It seems that USA is adopting the same methods.
Epilogue ; 
On Friday 06/27/2008 morning, in front of a crowd of 5,000, the Taliban in Bajaur executed two men for spying for USA and providing the American information that enabled the attack. One was shot in the head and the other was beheaded.
* Related topic – 
–
04/2009 -AL QAEDA HUNTED BY CIA  
01/2006 -DAMADOLA  AIR STRIKE  
****************
Read more ;