BBC News
– INDIA ARRESTED S.I.M.I ACTIVIST NASIR LIYAKAT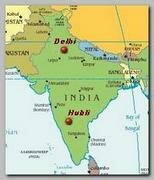 On Wednesday 05/28/2008 late night the Indian police arrested Nasir  liyakat Patel, a science graduate and a SIMI activist in the town of Belgaum, in the district of Karnataka in connection with the Karnataka Plot.
The police found in Nasir  liyakat Patel's computer hard disk and in CDs in his residence depicting bomb making technique. According to the Indian police he distributed the bomb making knowledge all over India to other SIMI activists.
It is the second arrest of a SIMI activist in Belgaum after the arrest of Yahya Kamakutty (Also known as Yahya Khan) few months ago who collaborated with the Indian Authorities and provided information that led to the arrest of many SIMI leaders including the arrest of Safdar Nagori , on Wednesday 03/26/2008 night.
* Related topics –
–
06/2010 -PROTEST OVER MOHAMMED PATEL BAIL RESTRICTIONS   
***************
Read more ;