Pierre Vogel– Abu Hamza Salahudin
PIERRE VOGEL – ABU HAMZA SALAHUDIN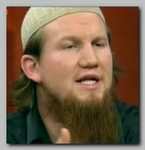 Pierre  Vogel (Fogel) aka Abu Hamza Salahudin  was born on 07/20/1978 in a small village, Frechen, in the German state of North Rhine-Westphalia, mid-West Germany, as an Evangelical Christian..
Pierre  Vogel had a short carrier as a professional boxer and was the Junior-Champion of Germany in th age of 22 (2000). Pierre  Vogel converted to Islam in 2001. Pierre  Vogel then enrolled at the University of Cologne for a teacher's program in social science and geography but quit already after the first semester. He planned on becoming interpreter and started an Arabic program, which he did not finish either.  Pierre  Vogel then started Islamic studies in Germany. In 2004 Pierre  Vogel went to Mecca, Saudi Arabia to an Islamic private school Om Al-Qura to learn Arabic and to study the Quran.  He returned to Germany in 2006.
Back in Berlin Pierre  Vogel started teaching a Salafiya version (one of many) of Islam in the Al-Nur Mosque in Neukolln, in the outskirts of Berlin. He was also a wanted lecturer in Universities and even amongst Christian congregations.
Pierre  Vogel's controversial views were subject of different TV coverages in Germany. He is currently under observation of the German Interior Ministry because of his ties to various Islamic jihadists groups and for his work as a so called "Hate Preacher" although Pierre  Vogel repeatedly denounced terror and violence.
Since 2007 Pierre  Vogel run, with Ibrahim Abu Nagie from Cologne, an enterprise of his own under the name "Die Wahre Religion" – The True Religion – focused on Dawa (repentant) and conversion of young Germans to Islam, mainly through video footages and preaching all around Germany (see also – Cuspert Abu-Maleeq).    
Pierre  Vogel was a leading preacher, along with Dr. Hassan Dabbagh in the Salafist group in Germany with offices in Moenchengladbach and Braunschweig known as the 'Einladung zum Paradies' – EZP, in English – 'Invitation to Paradise', founded in 2007 by Muhamed Ciftci. The offices were raided by the German police on 12/14/2010 dawn (see – GR Raid 12.14.10). In 12/2009 the Swiss Authorities have barred Pierre  Vogel from attending a planned demonstration against the Minarets Ban in Switzerland.
Pierre  Vogel is married to a woman from Moroccan descent and a father of three.
* Related topics ;





12/2010 -GERMAN JIHADIS BUNYANIN E. KILLED IN PAKISTAN






11/2010 -"CONCRETE INDICATIONS" OF ATTACKS IN GERMANY









06/2010 -THE INVESTIGATION OF AHAMD SIDDIQUI 





**************************
TERRORISMUL.RO
DW-WORLD