– NAAMEN MEZICHE
–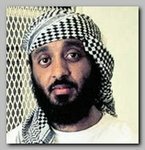 * Naamen Meziche was born in 1970 in Paris. He is a French citizen from Algerian descent who lived in Hamburg. In Hamburg he visited frequently his local al-Quds Mosque, the breading ground of the notorious Hamburg Cell. On 09/05/2010, a week before The 9/11 Naamen  Meziche had a phone call to his home in Hamburg from Ramzi Binalshibh, the 9/11 coordinator.
A spokesman on behalf of Germany's Federal Prosecutor said that Naamen  Meziche had been interrogated numerous times throughout the past nine years in respect to the 9/11 attacks but was never indicted. According to police reports, Naamen  Meziche's father-in-law is Mohamed Fizazi, the former Imam of al-Quds Mosque.
In this Mosque, that changed his name to Taiba Mosque, Naamen  Meziche recruited, in 2008, Ahmad S. Siddiqui to the Islamic Movement of Uzbekistan –IMU, one of many organization affiliated to Al Qaeda.
The group Naamen  Meziche recruited in Hamburg left in late 2008 and early 2009 via different routes to the FATA area in Pakistan. The last group of three were a disaster from the start – one was arrested at Frankfurt Airport and the other two were stopped at Vienna Airport and found to be carrying a piece of paper with tips about the "Code of Conduct for Jihad" written on it. When they arrived in Pakistan, the police put them in jail and then deported them back to Germany. Even Naamen  Meziche himself, who traveled to Pakistan via Syria, was detained by the local authorities and questioned before he was allowed to continue his voyage.  
Five of them, including two women, are said to have joined the -IMU. Another Salafist from the Hamburg scene, Asadullah M., is said to have arranged the logistics for the travel group. The group was associated with the German TalIban Mujahideen.

Naamen  Meziche was, allegedly, one of four German Jihadist, killed on 10/04/2010 near Mir Ali, Pakistan by a US UAV missiles strike (see – Mir Ali 10.04.10 ).
Eventually Naamen  Meziche escaped the attack. He was captured by Pakistani forces, on 06/19/2012, in a raid near the border with Iran, in Baluchistan, in what security officials say is a reminder of the country's vital role in the war on international Jihadist groups. The arrest was, probably, a typical Pakistani response to US Defence Secretary Leon Panetta, who said in Kabul, Afghanistan, on 06/07/2012, the US is "Loosing Patience" with Pakistan.
Naamen  Meziche was deported from Pakistan to France, on 10/08/2013, and was placed under formal investigation regarding his terror activity and especially his connections to The 9/11. Naamen  Meziche has been remanded in custody in Paris. Three other suspected French militants with whom he was detained were deported to France earlier this year.
–
11/2010 -"CONCRETE INDICATIONS" OF ATTACKS IN GERMANY  
09/2010 -8 GERMANS AND 2 BRITONS BEHIND TERROR ALERT  
PROFILE -HAYERETTIN  BURHAN SAUERLAND
*****************************
Read more ; 
FORUM.REKORDSREKORDS